PITI's nationally certified distance training courses offer a complete interactive learning solution with lesson pre-tests and post tests, flash cards, audio instruction, video clips, and instantaneous feedback. PITI is a part of Be Online Inc. (BOI), an education and compliance solutions provider for individuals and businesses based in Madison, SD. Dunn & Bradstreet D-U-N-S® Number: 82-771-1776.

WORKFORCE INVESTMENT ACT (WIA)
We are an approved training provider for many State Workforce Investment Act (WIA) programs including our corporate home state of South Dakota. If you are eligible for WIA training, contact us for more information.

BETTER BUSINESS BUREAU MEMBER
We are a member of the Better Business Bureau's Online Reliability Program and are authorized to display the BBBOnline logo.

NAIS NATIONAL ASSOCIATION AFFILIATION
Affiliate of the National Association of Infrared Surveyors (NAIS).

ASHI NATIONAL ASSOCIATION AFFILIATION
Affiliate of the American Society of Home Inspectors (ASHI).

AHI NATIONAL ASSOCIATION AFFILIATION
Affiliate of the North American Association of of Home Inspectors (AHI).

NAMRI NATIONAL ASSOCIATION AFFILIATION
Affiliate of the National Association of Mold Remediators and Inspectors (NAMRI).

FLORIDA ASSOCIATION OF BUILDING INSPECTORS
Affiliate of FABI, which is an Orlando-based home inspector society.

CALIFORNIA REAL ESTATE INSPECTION ASSOCIATION
Affiliate of the California Real Estate Inspection Association.

IICRC INSTITUTE OF INSPECTION CLEANING & RESTORATION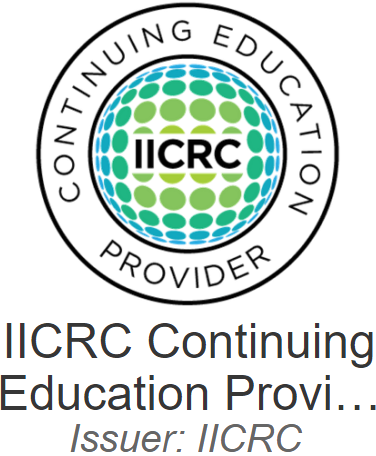 Authorized continuing education provider for the the Institute of Inspection Cleaning & Restoration (IICRC). Disclaimer: The IICRC does not endorse any educational provider, product, offering, or service. The Institute expressly disclaims responsibility or warranty for third-party publications, products, or instruction. The approved status does not award IICRC Certification.

NRSB / NRPP RADON TRAINING APPROVAL
The Radon Course has been approved by the National Radon Safety Board and the National Radon Proficiency Program (a requirement in some states).
©Professional Infrared Training Institute (PITI). All rights reserved.